John Oates – A Bio
Iconic singer/songwriter John Oates was destined to be a musician. Singing from the time he could talk and playing the guitar since the age of 5, his calling in life was never in question. Born in New York City, his family made a move in the early 50's that would dramatically change the course of his life. They moved to a small town outside of Philadelphia. Like most kids at that time, the impact of the early days of rock left a lasting impression on John. At the age of 4, he witnessed his first live concert when he saw Bill Haley and the Comets play their classic rockabilly hits at a local amusement park.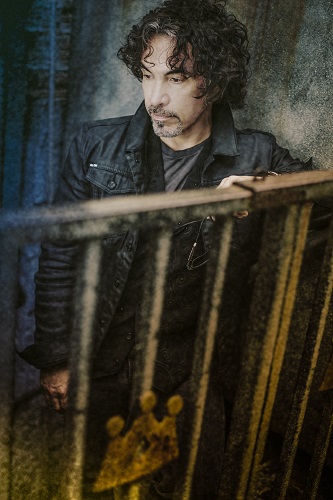 Young John was an avid collector of records, beginning his collection of 45-rpm singles at an early age. He had treasures from Little Richard, Chuck Berry, the Everly Brothers, Conway Twitty, Gary U.S. Bonds and, of course, Elvis. During the 60's, he spent countless hours twisting the dial on his AM transistor radio trying to tune in the local R&B stations and listening to DJs like Jerry Blavat spinning obscure Doo Wop records and B sides.
When it came to his influences John's musical pallet was wider than just the top 40 hits. One of his friends' older brothers turned him on to the nascent folk music scene that began to sweep the country. John's interest in traditional American music opened and he immersed himself in the Child's Ballads, The Weavers, Joan Baez, Rev. Gary Davis, Dave Von Ronk and all the rediscovered bluesmen who began to make appearances at the Newport and Philadelphia folk festivals. While absorbing it all he developed a kind of musical split personality.
One night you might catch John wearing a shark skin suit playing everything from Doo Wop to the big R&B hits of the day with his band. The next night it was not unusual to find him playing his acoustic guitar in a local coffee house singing Appalachian folk ballads. To this day, the very same influences can still be heard in John's playing and singing style.
John moved to Philadelphia in the late 60's to attend Temple University and to be closer to the city's music scene. In 1966 he wrote and recorded his first single "I Need Your Love" for a label owned by a local music store called the Record Museum. Bobby Martin, who at the time was producing and arranging for Gamble and Huff, arranged the song. The single received airplay on Philly's R&B radio stations and John began to divide his time between being a student and a professional musician.
Around the same time he met an influential guitar player/teacher named Jerry Ricks, who had spent time on the road with Mississippi John Hurt and Son House. Mr. Ricks took John under his wing and introduced him to many of the newly rediscovered folk performers such as, Doc Watson, Reverend Gary Davis, Dave Van Ronk and Mississippi John for whom Philadelphia's folk venues, like the Second Fret and Main Point, were frequent stops in their concert itineraries. John had the unique opportunity to play alongside some of these seminal musicians learning first hand, their finger picking and flat-picking styles.
When John first met Daryl Hall it was their mutual love for urban rhythm and blues blended with the more rural roots of Americana music that created their unique sound. Since the formation of their partnership in the early 70′s, Hall & Oates has gone on to record 21 albums. They have sold over 80 million units making them the most successful duo in rock history. They have scored 10 number one records; over 20 top 40 hits and have toured the world for decades. Their involvement in the original "Live Aid" concert and the groundbreaking "We Are The World" charity recording have further cemented them as legendary artists who have stood the test of time with both their music and philanthropic personalities. Hall & Oates influence on modern pop music has been cited by numerous contemporary bands, like the Gym Class Heroes, the Killers and Hot Chelle Rae, who have acknowledged the duo's considerable contribution to American popular music.
The influential duo has been recognized by numerous American Music and MTV awards as well as multiple Grammy nominations. In 2005, they were inducted into the American Songwriters Hall of Fame and in May of 2008, they were presented with the prestigious BMI Icon Award for their outstanding career achievement in songwriting. John is also the creator and executive producer for the "7908 the Aspen Songwriters Festival" which brings together the finest songwriters from around the world to perform at the Historic Wheeler Opera House in Aspen Colorado. The festival's mission is to celebrate the art and craft of songwriting combined with a strong educational component dedicated to mentoring and developing the next generation of songwriters.
In 1999, John began recording solo albums. Phunk Shui, 1000 Miles of Life, Mississippi Mile and a live album called The Bluesville Sessions round out his first 4 solo collections. His latest project is called, A Good Road to Follow and will be a series of digital singles to be released once a month during this coming year.
When not touring with his solo show or with Daryl Hall, John, his wife Aimee, and their son Tanner divide their time between Nashville and their rescue ranch in the Rocky Mountains of Colorado. There you will find a wonderful menagerie of dogs, emus, peacocks, llamas and alpacas. In his free time he enjoys driving his tractor, riding his mountain bike, hiking the backcountry and telemark skiing.
For more information on John, visit him online at www.johnoates.com